What is the IABO Hub?
IABO and PeerJ have partnered to offer the IABO Hub, an online platform featuring the latest research from our community and publishing opportunities in PeerJ open access journals with discounts. Submissions to the Hub are assessed by the Hub Editorial Team. Made up of fellow IABO members, the Hub Editorial Team ensures that the research featured on the Hub is of interest to your community. Articles are peer reviewed and published in PeerJ, the Open Access journal for life and environmental sciences, meaning you have immediate access to high-quality, indexed journals.
Join the IABO Hub at peerj.com/hubs/iabo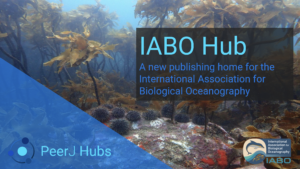 Discounts for IABO Members
When an article is approved by the Hub Editorial Team and at least one author has been verified as a member of IABO, if accepted, the submission will be eligible for a 10% Article Publishing Charge (APC) discount.
PeerJ rewards contributions to peer review – reviewing and editing – with PeerJ Tokens. Tokens can be:
Accrued over time

Pooled with co-authors

Exchanged for APC discounts

Donated to the IABO Hub Cooperative Publishing Fund
Hub Members can also exchange their Hub discount for Tokens and donate them to the Hub Cooperative Publishing Fund.